Why would anyone want to become a Licensed Optician? If you have been thinking about this, let me help you find an answer. As I mentioned in my first blog, my cohort has students from different walks of life, with varied backgrounds and diverse age range and so are the reasons they chose the program. Here are the top 5 reasons why students in my class chose to become a Licensed Optician:
1. Financially rewarding and morally fulfilling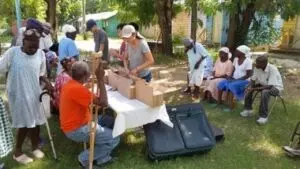 The ability to make a good living and be able to help people in need is a rare combination in today's world. Becoming a Licensed Optician offers a career where you are changing people's lives by providing the gift of sight. The appreciation and gratitude you get from your patients provide a feeling of intrinsic satisfaction and a sense of well-being that you are playing a direct role in improving somebody's life for the better.
You can also choose to volunteer with various organizations as a Licensed Optician to help the visually impaired in underdeveloped countries, which do not have the resources for adequate vision care. The ability to achieve both financial and humanitarian success in a profession is a potent incentive in choosing to become a Licensed Optician.
2. Diverse work avenues
There are many avenues you can choose to pursue your career as a Licensed Optician, depending on your area of interest. For example, if you are more technical, you can choose to work in a lab, making lenses for glasses. If you are artistic, you can work for an eyewear manufacturer helping design frames. Sales focused people can become sales representatives for retail chains like IRIS or large companies such as Ray-Ban, Hugo Boss etc. This flexibility is quite alluring.
3. Short-term program
It is a fast-paced program so a career change can be done quickly and you can begin working without a long-term disruption of your life. In our current class, we have people from various backgrounds such as accounting, catering, servers, and nursing who want to try a new career, and with the program being only 13 months long, it provides a comprehensive but faster transition to a new career.
4. The potential for entrepreneurship
For those seeking to open their own business, the options of opening a small independent optical store or a large franchise is very lucrative. With the aging population, the need for eyeglasses is increasing. Therefore, business opportunities are in high demand with a great potential for success.
5. A sense of self-worth
An important part of any career is to feel pride in what you do. To become a Licensed Optician means an exclusivity that provides a specific skill set nobody else can mimic or claim to have. To know you are a certified health professional, licensed to operate and bound by strict rules and regulations is important in feeling valued for what you do. You are joining a small group of highly skilled and trained professionals who play an important role in people's lives today than ever. Optician is a profession that is satisfying at so many levels. Follow my blog to take a closer look at the student life in the program and how it prepares students to become successful Licensed Opticians!
See what other students are saying about Stenberg College's Licensed Optician Program!