This is a different and difficult situation we are all forced to live in right now. It is out of our hands and although we are supposed to stay inside our homes due to health recommendations, we are encouraged to continue with our daily routines. That helps bring a sense of normality to our day-to-day life as we learn what it's like studying online during COVID.
The change to a chatroom
Before staying home indefinitely, we would go to our normal classroom to have our normal Early Childhood Education class. Of course, the main topic we discussed was the virus. Our instructor, Pat, updated us with Stenberg's decisions as they were being made. She reminded us repeatedly that it was a new experience for us all. We had to do things step-by-step and day-by-day. Nobody had planned for this kind of scenario, so in the beginning, there were more questions than answers.
By March 3, 2020, the group chat was created on the Collaborate site, which is the software we use for digital classrooms. Pat asked us to bring our laptops to class so we could try it. Fortunately, computers are becoming an increasing part of our lives, which made it easier for us to understand and use the Collaborate site.
March 16 was our last class in our normal classroom. We talked about our expectations for the remainder of the course, the online classes, and assignments. We had two assignments to hand in that week! I was worried about these assignments, mainly because I had worked so hard on them and wanted the recognition they deserved. We also discussed our feelings and own personal expectations for facing this crisis. By the end of the class, we shed tears and gave 'safe-distancing' hugs. We had grown accustomed to seeing and listening to each other every day and were sure we were going to miss each other.
Two days later, we had our first class online. Everybody was a little bit early, so we could gossip like we normally did. Although we had all done a test try two days before, some of us were having trouble logging in, staying logged in, turning our microphones on and off, and activating the camera. We quickly learned that using the microphone all at the same time was a bad idea, the noise made it impossible to listen to each other.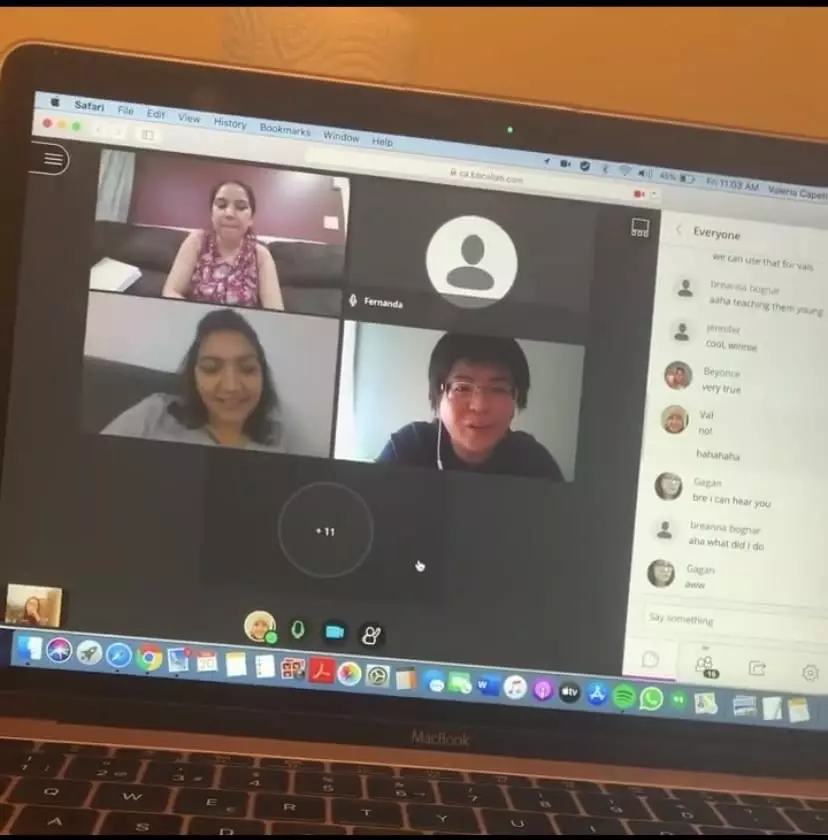 How Collaborate worked for us
After the first hour, the first class went by smooth and fast. The class began almost an hour late because of the constant reminders of turning the microphones on and off during a question and the poor Internet some of us struggled with. But it was still time well spent as we discussed how we were feeling, how our lives had altered and how we were dealing with the situation. Pat reminded us, being the great teacher and person she is, that she was there for us. If we had any questions, whether it was about our ECE course or not, we should feel free to ask her.
One of the changes that we experienced was presenting our assignments. Pat allowed us to show her the assignments through videos and pictures, which made it easier for her to grade but harder for us to see and appreciate what our classmates had done as we usually have encouraging words and praises for each other.
Another noticeable change was the interaction during class. I was used to fluent communication between Pat, me and my classmates. Questions, answers and general comments went back and forth, mainly related to the course content we were discussing but also on experiences and opinions that enriched the learning. Although we still tried to comment and share our experiences, it is more complicated to do it online. On the other hand, Pat went through the information quicker, especially because nobody is interrupting her!
Exams online
After the first few days of online classes, Pat dropped a bomb: the midterm was coming up. Not only was this going to be our first online test, it was also our last midterm for the course.
Although some of us have taken exams online before, it promised to be a different experience. Pat let us know that Stenberg had set our whole course online on Moodle, which is an online learning platform for storing classroom resources and exams. She explained that they would upload a mock test, which was going to be very similar to our actual exam, for us to practice on and feel a little more comfortable with taking a test online.
Although we had the mock test uploaded to our Moodle account to practice with, I felt anxious and nervous about taking the midterm. I prepared my study guide, went over it a couple of times and faced the exam with a positive attitude, as I had done for all my previous exams. After the exam I felt much better, it was not hard or complicated to go through and answer. Now I was looking forward to the actual exam.
Studying online during COVID
This has been a strange and slow process none of us have ever experienced. But this didn't stop my classmates from wishing me on my birthday on March 20 and singing Happy Birthday during our online class. Of course, they turned on all their microphones at the same time!
Check out a video of an Early Childhood Educator's career.