A little about me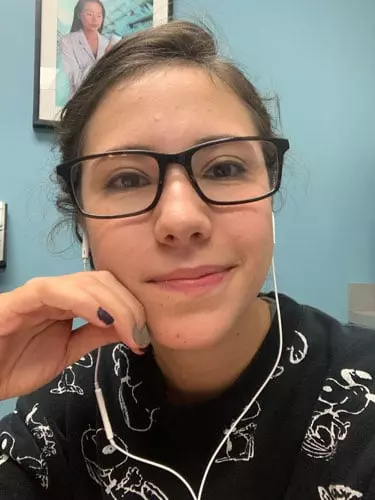 My name is Valeria "Val" Capetillo and I'm from a small town called Xalapa in the southeast of Mexico. I'm currently halfway through the Early Childhood Education program at Stenberg College but my journey with children began a few years earlier.
Since I was young, I've enjoyed taking care of younger children. It began when my baby sister was born. I would insist on changing her diapers and feeding and bathing her. As she was growing up, I played "babysitting" with her and her friends and my love for helping and taking care of children continued to grow. Although childcare wasn't initially part of my plans, it quickly became what I wanted to do in the future.
I studied English while completing my Bachelor of English Language in my hometown. During my university years, we learned to plan and design English lessons for different age groups. After preparing and giving my first class, I knew it was what I wanted to do. Right after graduating, I worked as an English teacher in kindergarten, primary school, and college. My work experience allowed me to better understand children of all ages.
Moving to Canada
Life in Mexico was comfortable, yet I felt like something was missing. Living, studying, and working in Canada had been a dream of mine since I was very young. Finally, in August 2019 my boyfriend, Walter, and I decided to move here. It wasn't an easy nor simple decision.
The first step was to identify my field of study and my school. I knew I wanted something related to children but I didn't know where to start looking. To make it simpler, Walter and I met with a migration consultant who presented us with several options, more options than we expected. Among the many flyers he gave us, I found one that caught my attention: Stenberg College. Stenberg offered the Early Childhood Education (ECE) program and reading the description, it sounded exactly like what I was looking for — to become an ECE in Canada.
Next, I had to complete all the necessary paperwork. There was a lot of information we had to put together, and fortunately, I had a lot of help. After completing this step, I met with one of Stenberg's Directors of International Admissions, Mayra Wiszlicki, who helped me complete the paperwork and introduced me to our ECE instructor, Pat Bates.
Returning to student life
After being accepted at Stenberg, the real excitement began. I'd always been good at school and most of my classes in college had been in English, so that didn't worry me but I hadn't been a student in five years! I hadn't had to prepare for an exam or take notes in so long, I was afraid I was going to be a little rusty and that it would be hard for me to adjust to student life once more.
Yet, as soon as I had my first class with Pat, all my fears went away. I felt ready. Listening to her speaking about children, taking care of them, and helping them to develop makes you want to pursue this career passionately. As she spoke, Pat assured me that I had chosen the right path.
The first six months
After the first few weeks, my fears became fewer and fewer. Everything we talked about during the lectures made sense in my head and although the assignments required all of my concentration, I found that they were within my knowledge and abilities. The information Pat has given us so far has been interesting and easy to understand and process. She also takes the time to explain any doubts that might come up during the lectures.
She also enjoys sharing her life experience and anecdotes from her professional life with us. In turn, we love listening to her stories. She also encourages us to share our stories, validates our opinions and understands us which makes me feel confident in my answers and knowledge.
Another reason why I felt I had made the right decision are my classmates. Despite of having met them only five months ago, we're quickly becoming a warm and supportive group. We help each other when facing walls that might be too big for one person to scale by themselves. All of them know they can count on me and I know I can count on them.
We're now coming to the second half of our program. Together, we've been through four midterm exams, four final exams and eleven assignments. We've got our ECE Assistant Certificate, we've been to fifteen observations and we're eager to find out what's coming next. I can happily say that all the time and effort I put into choosing this program is paying off. This is definitely where I'm supposed to be.
Check out a video of Valeria's experience studying at Stenberg College!