COVID-19 has forced us to alter our daily life. We no longer commute to work and work from a home office. We transitioned from classrooms to chat rooms. We use video calls to replace physical interactions. It's become strange how days turn into weeks in a blink of an eye. Every day feels like a never-ending Saturday, and everybody has a different way of coping.
Although I've always preferred staying home rather than going out, this has affected me. I was used to being surrounded by others. If I wasn't with my classmates, then I was with my co-workers, roommates, and my boyfriend, Walter. The new normal has significantly reduced these interactions. I still talk to my friends, Breanna and Winnie, but I don't get to see them as often as before.
Changing the repetitive routine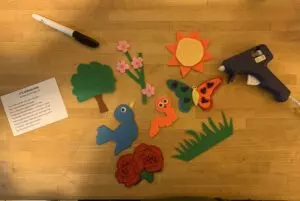 At first, it seemed that this situation was the break I needed from the stress of school and work. However, as days go by, it gets harder and harder because I cannot see and hug my friends daily. After the first few days, things became repetitive. To lessen this, I decided to design a schedule made up of activities I enjoyed, like exercising, dancing, and reading. I also made time for assignments and the Early Childhood Education program's resources. By creating a schedule, I'm able to maintain "normalcy" in my days.
Every day I wake up, eat breakfast, exercise, shower and do some chores around the house. Once I'm settled, I go online and connect with my class. Classes now last longer because we spend time catching up with one another. We each take turns talking about our weekend and socialize.
After class, I dedicate time to work on my resources and assignments. Throughout Stenberg's program, we work on our resources. Resources are materials and specific activities Early Childhood Educators (ECEs) use in their daily interactions with children. They each serve different purposes that boost children's learning and development. Resources can be made of felt, foam, interface, paper and other materials. We use these resources during practicum and our following years as ECEs. By the end of May, we're expected to have completed 50 resources.
Destressing through hobbies and social interactions
I've also been keeping busy with experimenting in the kitchen as I prepare more recipes than before. This week I made ceviche! It was delicious. By having more time at home, I'm able to learn new recipes and enjoy cooking. After being indoors the entire day, Walter and I walk around our block to get fresh air. On weekends we walk more, each time going and further. I don't think I have ever walked this much in my life!
We dedicate some days to hang out with our roommates. Fortunately, we've created a bond with them over the time we've lived together. We sometimes play card games or have dance parties in the living room. When we socialize, laugh, and listen to music, it's a big stress reliever. Next weekend we are preparing a "mole" party. Mole is a Mexican sauce that usually goes over chicken and is accompanied by rice. We are all looking forward to it!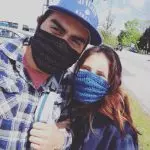 One of my biggest hobbies is crocheting. I started improving my crocheting when I would commute to school and work, as I have lots of time to pass. I have scheduled crocheting into my routine to strengthen my skills. So far I've knitted hats, gloves, scarfs and socks! My last project was more healthy than fashionable as I made facemasks for Walter and me.
It is essential to be safe and keep up to date with the information given by reliable sources. We all want this situation to end, and the best way of doing that is by keeping each other healthy. Remember, we are not alone. Everybody around us is going through the same thing.
By letting other people in, especially people close to us, we will be surprised by how much they can help us feel better during these uncertain stressful times. It is important to continue communicating with each other, even if it's virtually. We can overcome difficulties together, even if we aren't able to be in the same room. Our friends and family are there when we need them.
Check out a video of an Early Childhood Educator's career.